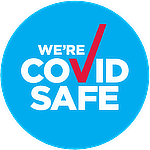 Koorana is committed to delivering its services and activities in a way that is as safe as possible.
Koorana acknowledges the ongoing health and safety risks posed by the COVID-19 pandemic, as well as other infectious diseases. Koorana has adopted the following precautions to minimise risk of infection from COVID-19 or other infectious diseases in our workplaces and through our services:
All Koorana staff are up-to-date with their COVID-19 vaccination and/or have provided a medical contraindication
Staff with a medical contraindication complete a Rapid Antigen Test prior to working face-to-face
Hand sanitising at entry/exit to our premises
Our staff wear masks where circumstances are deemed high risk
Physical distancing is maintained wherever possible
Equipment and high touch points are cleaned regularly
Rapid antigen testing is available for our staff as required
We encourage our families and visitors to discuss any concerns or questions regarding our protocols with us as required.
For further information, please see below other links with additional information and updates about COVID-19.
For latest NSW Government early childhood education updates please click here.
Remember to wash your hands regularly. For hand washing guidelines click here.
COVID-19 information in your language click here.
Koorana's COVID-19 Privacy Policy for collecting vaccination information click here.
The information on this page was last updated on October 13, 2022